INTA is pleased to bring you a message from our Board member Juul Frost, INTA representative for Northern Europe and Scandinavia.
Dear friends, partners and colleagues. Merry Christmas and a Happy New Year ! 2021 has been an exciting year at Juul Frost Architects both at home and abroad.
This year we won gold at the WAN Awards for our landscape concept for Tarkhanovo Eco-Park in Russia and we took the 2nd place in the open, international competition for the design of the PoPov Lug Hotel. And now the renewal of Reventlowsgade in Copenhagen has been nominated for the Danish architecture prize 'Årets Arne' named after the renowned Danish architect Arne Jacobsen.
In close collaboration between architects and landscape architects, we have begun the development of a gastronomic campus area with the new sustainable Copenhagen Hospitality College and housing in Valby. In Copenhagen's South Harbor, we have continued the design of the metro square, boulevard, urban spaces and promenades at Enghave Brygge.
In Glostrup, Juul Frost Architects has designed Granskoven, a new residential area with open courtyards, which include 17,751 m² of sustainable housing and 198 apartments.
The 3rd stage of Munkebjerg Park is rising in Odense, with 63 senior homes and 184 student apartments around the neighbourhood's new town square – and another stage with row houses is on the way. With the dwellings in Christians Park and the activity and climate park 'Pulsparken', we have focused on creating a framework for everyday well-being.
Social, mental and physical well-being has also been on the agenda in the development project 'The Futures Urban Health Culture' supported by Realdania – In collaboration with an interdisciplinary think tank, we have explored how we can ensure the connection between planning and health culture in the future.
In Sweden, we have wound up Bo01 in Malmö with the housing construction Aktern, which is now complete. And in Helsingborg, the World Trade Center is ready to open its doors in 2022.
Thank you for your continued partnership. We look forward to working with you in the years to come.
Warm season's greetings from everyone at Juul | Frost Architects.
De bedste hilsener/ Sincerely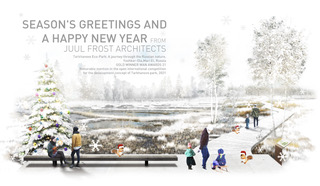 "Our ambition is for architecture and urban development to promote people's quality of life, health and well-being"
CONTACT : Juul Frost Arkitekter A/S